Exclusive to I-PRAC: The Trust Trilogy Series 
Every relationship, be it personal or professional, requires a foundation of trust.
Human beings have a fundamental need to feel secure; and when this feeling is not achieved we become withdrawn and skeptical of the information that is presented to us – even if this information is the product of flashy marketing or a high-budget PR campaign.
We are biologically wired to seek out "trust signals" in every decision we make in life. Including the most futile decisions such as choosing which cereal brand to enjoy for breakfast every morning.
There is no shortage of books, podcasts, and video tutorials that loosely mention the significance of trust in business. But as ambassadors of trust in the short-term rental industry, we're going to carry the weight of this baton even further at I-PRAC – and provide a thorough education about this frequently overlooked concept, and explain how exactly it should be understood and implemented for more profitable, ethical, and sustainable short-term rental businesses.
We begin with this exclusive Trust Trilogy series.
A three-part series that will delve into the key components of trust marketing and trust psychology for STRs, leaving you with a thorough insight of why trust is the most invaluable currency in the short-term rental industry, as well as in all the relationships we keep.
Kick back with a coffee (and perhaps a notepad and pen), as we start with the first edition of the Trust Trilogy: Removing Guest Uncertainty. 
To get the most value from this article, we recommended completing the quick exercises mentioned within it.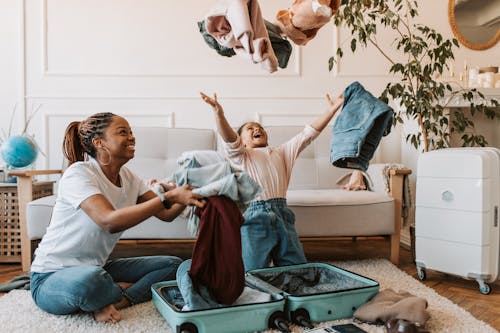 People are Biologically Hardwired to Protect Themselves
The majority of short-term rental hosts do not even realise that they have a guest uncertainty problem; while others believe that frequent questions during a purchasing cycle (and in our case, the booking process) is "to be expected".
Unfortunately, it is this complacent mindset that's responsible for a lack of conversions on STR booking websites. These questions that a vast number of hosts deem as "normal" are actually big, fat doubts in disguise – and these doubts ultimately become the reasons why guests fail to follow through with a complete booking transaction.
Remember, no matter how aligned your short-term rental offering is with a guests' needs and preferences, if the process of them checking-in to your property is riddled with red flags, then they will avoid it entirely. Because for human beings, an inconclusive outcome is better than a negative one – and we are biologically hardwired to protect ourselves from danger.
Speaking of biology, it's useful to know that a number of evolutionary psychologists have found that the traits of modern-day people are not too different from that of homo-sapiens. Meaning, the animalistic self-preservation theory still applies for today's brand consumers (the theory that means all animals including human beings are hardwired to escape predators and threats); and when a person is placed in a high-risk situation, their natural instinct will always be to escape.
Let's put this into context with an example from a renowned brand that has revolutionised its industry, by removing guest and customer uncertainty: Uber.
How "Fear Removal" Steered Uber in the Right Direction
While Uber is not a short-term rental brand, the company serves as an excellent example about removing guest uncertainty; and teaches us a lesson that can be applied to our industry.
When the brand first launched, the market was already crowded with taxi companies; Uber was hardly reinventing the wheel.
But Kalanick and Camp (the founders of Uber) not only rivalled the wider taxi market; but they challenged cultures that have lived on for centuries – such as black cabs in London, and the yellow taxis of the USA. This is purely because they addressed the fundamental uncertainties of both taxi riders and drivers:
"How long will my taxi really be? The driver said roughly 10 minutes on the phone, but I'm getting late for work and I have no idea where they are".
"Does the taxi driver know where to pick me up from? There are two different entrances to this building and I can't see which one they're driving towards".
"It's late and my daughter is returning home after a night out. Will she be safe getting home in a taxi and how long will she be?
Above are just some of the questions that customers riding taxis would most likely have (consciously or subconsciously) before the age of Uber. The taxi drivers themselves would have their own concerns, particularly around their safety if they are doing late-night pick ups from pubs, bars, and clubs.
When Uber launched its app it addressed each of these concerns and put them to bed. The Uber app allows riders to see exactly how long their taxi is going to be (while tracking them on Uber's own map), there is a chat feature installed, information about the driver for ultimate reassurance, and if ever the journey takes an unexpected turn – the Uber app immediately detects it and gives both the rider and the driver the opportunity to contact emergency services.
By removing the biggest uncertainties for both riders and Ubers' employees, the brand has gained an irreplaceable kind of trust with the entire market – and completely reinvented how everyday people choose to commute. 
Identifying the Doubts that Destroy a Guest's Booking Experience
Just like Uber has addressed each of their target demographic's concerns to acquire their trust and loyalty, short-term rental hosts should do the same when thinking about a guest's direct booking experience.
By "direct booking" we are of course referring to a booking in the absence of OTAs such as Airbnb and Booking.com, that tens of thousands of guests are already flocking towards.
You're now invited to take part in a simple exercise. As a short-term rental business owner, it will allow you to look at your offering from a guests' point of view and make improvements to the booking process and guest experience where necessary.
Step 1: 
Make a list of the questions and concerns that your guests are likely to have on their mind when booking a short-term rental property with you. It doesn't matter if these questions seem tedious to you at the time; remember every tiny doubt during the booking process is another reason for guests to book via a well-known OTA, rather than with you.
Of course, certain questions will be specific to you and your niche. However, during I-PRAC's own in-house research (a survey carried out in 2021), we have identified the most common uncertainties of guests. You will find them on this document (in a public Google Drive) – where you can also add some of your own.
It's helpful to think about the actual conversations your guests are having with their family and friends, or with themselves behind closed doors. The things people say and think about inherently on a daily basis, tells us a lot about their emotional psyche and where they can potentially be placed in a purchasing cycle.
Step 2: 
Identifying guest uncertainties is just a part of the solution. To gain their trust in an ethical way, you will now need to think about whether you have viable answers to each of their questions; and if you don't – then what steps can you take to fix this?
Next to the questions you have already jotted down from Step 1, write down how you settle – or plan to settle – your guests' pre-booking hiccups. We have provided the answers to the key issues on the same document as before; and you're at liberty to get creative with some of your own additional notes, too.
For example, the concern around question 1 is that the guest is hesitant to trust a short-term rental provider over a brand like Airbnb that is an official industry giant. In this instance, your solution may be two fold: 1) You will need accreditation that guarantees you can be trusted. 2) You share more organic content as part of your blog, social media, and e-mail marketing strategy to showcase that you are an industry leader, like the OTAs.
As another example, your answer to question 3 could be something like this:
"Our guests can rest assured that our short-term rental business is fully I-PRAC Approved. This means, we have been through I-PRAC's meticulous verification process; and can therefore guarantee to meet the highest industry standards, as well as 100% payment protection – or the guests' money back. I-PRAC is the industry's only verification and membership platform, so this gives us a huge professional edge.". 
Step 3: 
Removing guest uncertainty is not a one-time tick-box exercise. It requires ongoing effort.
Uber did not park their marketing vehicle after developing an industry-first app; just as Airbnb hasn't dropped the ball in the public eye – even after launching additional features like AirCover.
To stay ahead of the game and continue convincing guests that they can trust you more than OTAs, you will need to be putting those uncertainties to bed as often as you can. In other words, identify what your "trust signals" are and use them to your advantage.
Trust Signals
Trust signals are evidence points strategically placed online (particularly across websites) and other marketing mediums, to reduce perceived risk and help consumers feel safe before completing a transaction.
Naturally, the more money a consumer is being asked to part with, the greater the risk in their mind will be; and therefore, the greater their need for solid trust signals.
Don't forget, that while you might be very emotionally invested in your short-term rental business and believe your offering is as beautiful as a thousand suns, your guests may not see it this way and booking with you won't be a small "impulse buy" for them. This is not like buying a new blend of coffee at your local cafe.
Also, it's not just the money that's at stake for your guests here – they are entrusting you with their leisure or corporate travel plans.
So, whether they realise it or not, guests who come across your STR brand online will be looking for reassurance and comfort, that they probably believe they already find on Airbnb.
We strongly recommend taking the time to learn about trust signals, as the topic is vast and enormously insightful. Our CEO, Chris Maughan covers this a lot across his LinkedIn and in many of his write-ups on this website.
However, a good place to start is on your own website, as this is normally the hub of all the action.
Many short-term rental business owners make the mistake of prioritising a "good looking" direct bookings website, over one that actually works. While aesthetics are important in a world that is largely driven by selfies and TikTok reels, it's a high number of conversion that will keep your calendars full and your STR business ticking over.
Assuming that you have already identified your guests' uncertainties (as well as the potential solutions for them) in the first two exercises, you can now use this information to do a deep analysis of your direct bookings' website – and bear in mind, you may need to be as ruthless as possible here.
Your Homepage: Digital experts go by something called the "15 second rule". This means, if a website visitor cannot identify your service offering (and why it's an attractive one) during the first 15 seconds of them landing on your website homepage, then they will most likely move away from it.
Guests – now more than ever – have incredibly short attention spans. And the biggest question they're going to have when choosing to visit your website, over an OTA's is "Can I trust them to give me what I want?".
So, rather than wasting your precious character limit with phrases like "Welcome to XXX Cabin Rentals", lead with the benefits of your short-term rental accommodation, as well as a solid reason as to why your brand can be 100% trusted over competitors. These trust signals should be visible on the above-the-fold part of your website homepage.
A great example of this is Luke Stays' new direct bookings website, where they have mentioned that they "Guarantee Trust and Protection" in the hero title. Of course, this message could be cemented even more if they were to include an I-PRAC accreditation logo on the same area of the website homepage. Guests will never find such a guarantee on Airbnb nor other OTAs; and this will therefore, immediately pique their attention.
Contact Information: There is nothing more amateur than a mobile phone number listed on a STR's direct booking website, as contact information. Unfortunately, for many travellers, this might even be regarded as a red flag, as a number of short-term rental scam artists (with fake properties) tend to do the same. It's worth investing in a virtual business number to give you the credibility you need, even if you're in the earlier stages of your business.
Trust Page: Approach the copy on your website and across all your marketing channels with this one fact in mind: Guests always want to know what's in it, for them. 
Not having a designated Trust Page on your website is practically direct bookings' suicide. This is the best way to tell your guests why they can trust you, and immediately put all their uncertainties to rest. In fact, our research at I-PRAC shows that a well-constructed Trust Page increases conversions even more than a traditional About Page that tells the founding story of a short-term rental business's brand (guests are more interested in their protection, than the personal battles you have overcome to set up your business).
Your Trust Page should include a clear list of things you guarantee, as a result of being I-PRAC Approved. This is where the questions and answers you typed up earlier will really come to good use. Don't forget to use high quality photographs of actual people too (photos that are exclusive to your brand are always better than stock images) – in fact, research shows that real human photos can increase conversions by up to 95%, as they naturally increase levels of trust. (Source: vwo.com).
Converting Uncertainty to Trust and More Bookings
Building a direct bookings business is a labour of love. Unfortunately, a number of short-term rental hosts fail at the first few hurdles as they expect the results to be immediate, or they do not prioritise the ongoing effort required to build a trusted brand.
While this article will provide you with many valuable insights, bear in mind that the short-term rental market is rife with guest uncertainties at the moment. Even though travel has opened up post pandemic, the landscape has dramatically changed and consumers have become less generous with their time and emotional energy. Meaning that if you fail to address their uncertainties when they first come across your brand online, then you run the risk of these guests never returning to it again.
Rather than spending your time creating pretty social media tiles and a website that has all the aesthetic bells and whistles, create a solid plan of how you're going to address the uncertainties that might surround your business model first. This should be at the core of all your marketing and plans for scaling and growth; without it, you're doing nothing more than building a house on sinking quicksand.
Stay tuned for part two of the Trust Trilogy series, where we'll explore the differences between product marketing and trust marketing; and how the latter can help you build a healthy and sustainable short-term rental brand.